Sai Aasare By Sai Samsthana Free Old Age Home For Poor
What Is Sai Aasare?
Sai Aasare is the popular old age home for people who are in search of shelter and basic amenities in life. It is run by Sai Samsthana in Hirisave Village & Also In Bangalore, J P Nagar 8th Phase, Karnataka. This shelter focuses upon helping mainly the poor, old, and destitute people with not just shelter but many more facilities.
Most of the old-age residents within the premises are dropped off by their children, and some are recommended by the Police. This old age home intends to take care of the parents who have no one to look after them in this world.
The Journey of Sai Aasare
Sai Aasare helps the poor and unfortunate with old age home for free. With the blessings of Pujya Sri Gurumurrthy Guruji, this foundation has started its journey of finding and helping the unprivileged old-age people in Channarapatna and nearby villages. The facility is available for the people throughout India, and Sai Aasare is ready to take on the responsibilities coming their way.
Today, there are many old-age people begging on the streets or left by their children without a source of living or food. Sai Aasare has an aim to reach out to such people and give them shelter in their old age home. This morally pleasing job is what makes people look up to this foundation with respect and praises for the efforts. The local and state police have also been requested to reportedly inform the team of Sai Aasare of any poor and unprivileged people they find on the streets of Hirisave or other nearby villages.
As of now, there are 28 residents within this facility, and many more old grandparents are about to join this family. As the family will grow, the foundation will have more responsibilities upon its shoulder to help give them a better life. It is not possible without your support and considerations!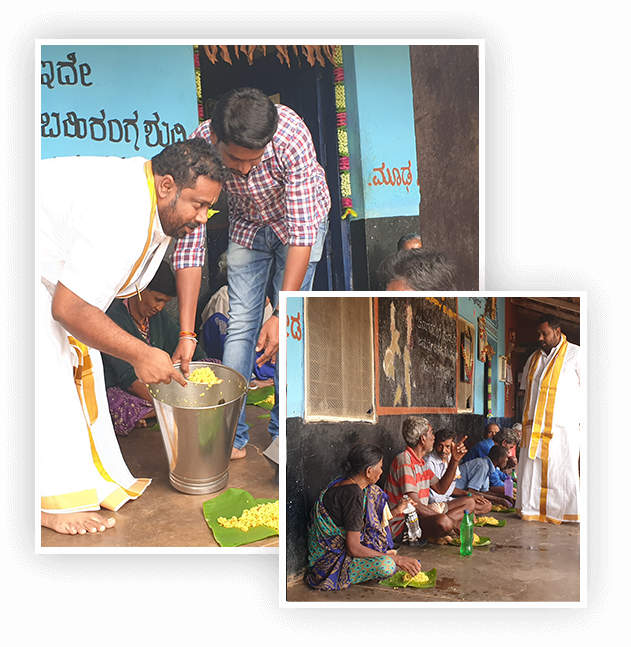 Fund Sai Aasare The donations can be beyond the monetary offerings! Sai Aasare urges with folded hands for generous donations to strengthen the good work they are up to!
The secret to happiness lies in helping others. Never underestimate the difference YOU can make in the lives of the poor, the abused and the helpless. Spread sunshine in their lives no matter what the weather may be.
We Will Offer Sankalpa To Sai Baba In Your Name Or Family / Friends Name In Our Sai Mandir
---
The Urge for Donations!
Sai Aasare needs more than just your praise and respect. It needs some amount of donation with your positive mindset. If you understand the life of an old person who has been driven out from his/her house or has lost all of his/her family members, then come ahead and donate with an open heart for supporting this foundation to help old grandparents with a good life.
Every bit of the donation counts! So, make sure that you get in touch with the Sai Aasare team and make your small or big donations that are within your power. Every penny you give here will be used for giving medicines, shelter, free food, recreational facilities, and much more to the poor and old found on the streets.
---
If you wish to be the pillar of support for Sai Aasare, then it is high time you need to understand the worth of things you possess that others cannot. With this open mind, reach out to the team of Sai Aasare and help them in the best way possible. In case you find any old or poor person suffering out on the streets, you can recommend them to this facility as well.
~ Sai Sharath - Sai Aasare Cluster Head
Your open-hearted contribution will make a difference in
LIFE OF OLD AGE PEOPLE EASY
---
Select Your Donation Amount